More on the Temptation of Christ
Q: I'm extremely confused; Jesus couldn't sin, yet what he was tempted to do was sin. How can you be tempted to do something you're incapable of doing? I mean, I'm not tempted, say, to turn my jug of water into wine even though it would save me a few dollars. Because I can't do it.
[Question comes as a comment to the
previous post
.]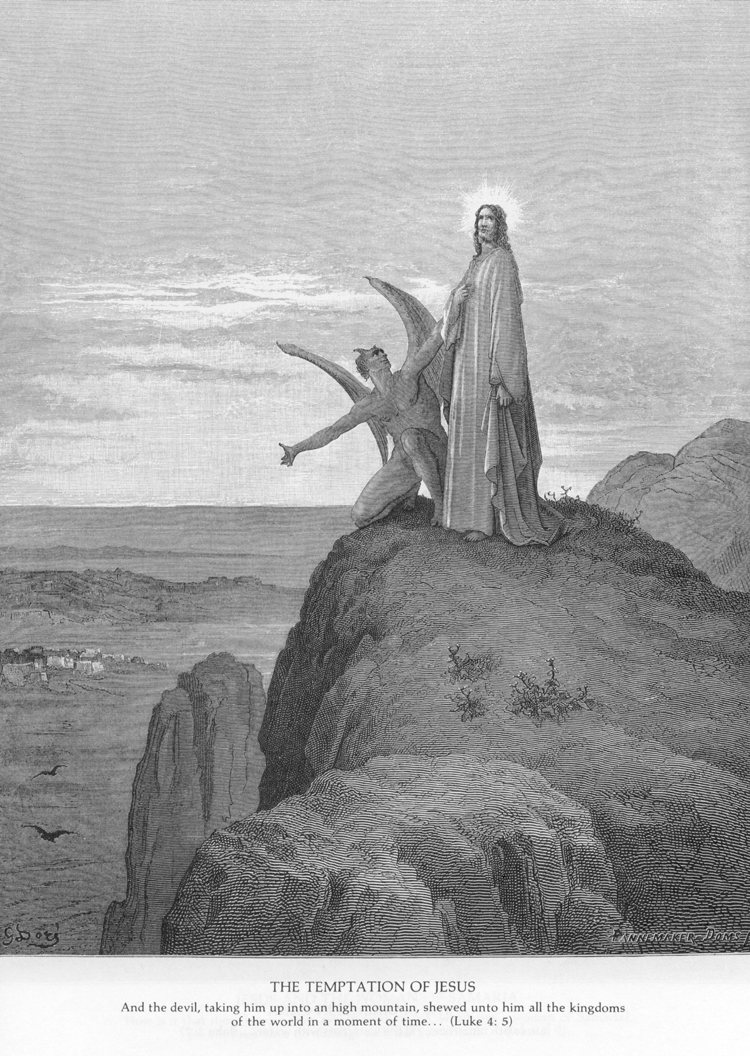 A: Part of our problem is that we understand temptation only as people who have succumbed to it. We view it as sinful humans, not as our Father or as the sinless Son of God. Note that Hebrews 4:15 confesses, "For we do not have a high priest who is unable to sympathize with our weaknesses, but one who in every respect has been tempted as we are, yet without sin."
We also must fully understand the Greek word πειράζω (
peirazo
) translated as as "tempt" in most English Bibles' accounts of Jesus in the Wilderness. However,
peirazo
has a fuller definition including "to make proof of, to attempt, test, tempt." The
English Standard Version
I normally quote in the column renders it "examine" in
2 Corinthians 13:5
, "test" (with the intent of entrapment) in
Matthew 16:1
and
John 8:6
, "tempt" in the Wilderness accounts and elsewhere, and "attempt" in
Acts 9:26
. If you compare these to other versions, you might see different renderings chosen by different translators.
In looking at the full meaning of the original text, we see that what Jesus experienced was a true testing, an attempt by Satan to trap Him. The possibility of failure doesn't need to be factored in, however, to our understanding. By means of a (feeble) earthly comparison, imagine a sadistic yet talented high school math teacher testing his class by composing the most difficult examination he can. By sheer intellectual ability, he could cause all his class to fail the test. However, if the principal wants the class to pass, suppose that he says one person can take the test on behalf of all the students. He then goes so far as to choose the substitute, a brilliant mathematician who sits on the faculty of a world-class university. The substitute not only answers all the questions perfectly, he also corrects errors made by the tester. In a way, this is what we see in Scripture, especially in the Matthean and Lukan accounts of Christ's temptation.
Of course our analogy breaks down in several areas. For instance, we've already failed many tests. We're undisciplined, unruly, and unworthy of any mercy. We
deserve
failure and the accompanying consequences. Also, the difference between the Devil and our Lord Jesus is vastly greater than that between the tester and the test-taker mentioned above.
To sum things up, whether by Satanic means or Fatherly abandonment, Christ was fully (if not, by our standards, "fairly") tested, tempted, and tried throughout His earthly life. Whether through early peer pressure during the years not recorded, by the misunderstanding and desertion of His followers, with betrayal and denial, or by any other means, Jesus faced every possible hurdle to perfectly fulfilling the Law and doing His Father's bidding. He withstood temptation; He passed all the tests; He was proven to be the genuine and perfect Substitute. Truly, He was "tempted as we are, yet without sin."
Scripture quoted from
The Holy Bible, English Standard Version
™, © 2001 by
Crossway Bibles
.
Send email
to
Ask the Pastor
.
Walter Snyder is the pastor of
Holy Cross Lutheran Church
, Emma, Missouri and coauthor of the book
What Do Lutherans Believe
.